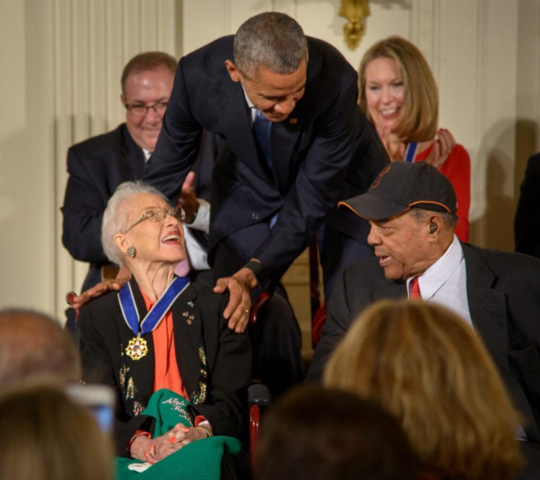 She's played a role in every major US space program, from calculating the trajectory for Alan Shepard's (First American in Space) inaugural flight to the Space Shuttle era. Her inspirational work for the U.S. space program since 1953 predates the creation of NASA. She calculated the trajectory for the 1969 Apollo 11 flight to the Moon in 1970, and Apollo 13's mission to the Moon. When Apollo 13's mission was aborted, she helped to safely return the crew to Earth four days later through her work on backup procedures and charts .
Her name is Katherine Johnson and it's likely that you've never heard her name before. Until recently that is. 97-Year-Old Katherine Johnson became a recipient of the Presidential Medal of Freedom in November 2015, the United States' highest civilian honor, for a hugely influential career in mathematics. When NASA began to use electronic computers for the first time to calculate astronaut John Glenn's orbit around Earth, she was relied upon to verify the computer's calculations. And now, mathematical genius Katherine Johnson has been commemorated in a movie titled 'Hidden Figures' and played by none other than "Empire" Star Taraji P. Henson.
Katherine Johnson along with her colleagues Dorothy Vaughn and Mary Jackson, served as the brains behind one of the greatest operations in U.S. history — the momentous launch of astronaut John Glenn into orbit, and his safe return. Glenn flew the Friendship 7 mission in 1962, becoming the first American to orbit the Earth. The job title of these women was 'Computer'. The three women crossed all gender, race and professional lines while embarking on the mission.  'Hidden Figures' is an adaptation of the Margot Lee Shetterly book "Hidden Figures: The Story of the African-American Women Who Helped Win the Space Race,"
I'm so glad that this movie has been made and will help to highlight the significant work that these women have achieved. But Katherine Johnson isn't the only woman whose achievements have been unsung for over 40 years.
During Women's History Month, other women who you need to know include: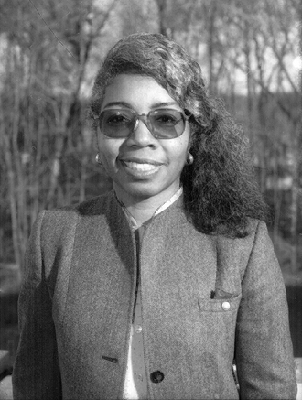 Valerie Thomas
In the 1940s, Valerie Thomas went to an all-girls school where math and science weren't even taught. But she persevered and went on to study physics in college. Valerie took a job at NASA, project managing the Landsat program, which collected satellite images of Earth from space. She soon began conceptualizing the projection of 3D images in a similar way. Using a series of concave mirrors, Thomas invented and patented the 3D-Illusion transmitter, which produces 3D projections of objects – and NASA still uses her technology. It's her technology that made your 3D TV and modern medical imaging possible.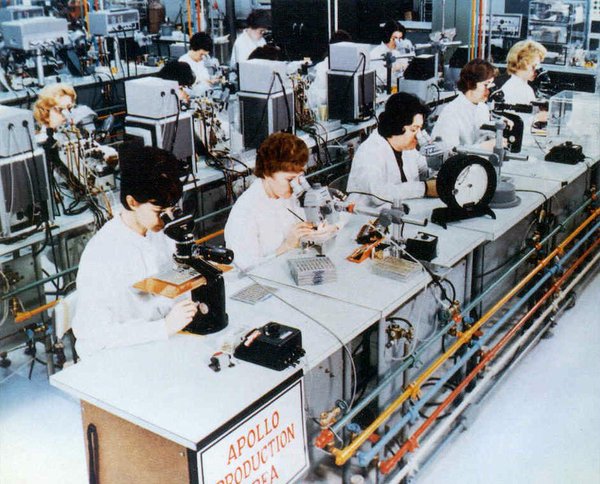 The Women That Stitched Apollo To The Moon
Raytheon's expert seamstresses, nicknamed 'Little Old Ladies', threaded copper wires through magnetic rings (a wire going through a core was a 1; a wire going around the core was a 0). Unbelievably, software was woven into core rope memory by female workers in factories. Apollo memory was literally hardwired and almost indestructible.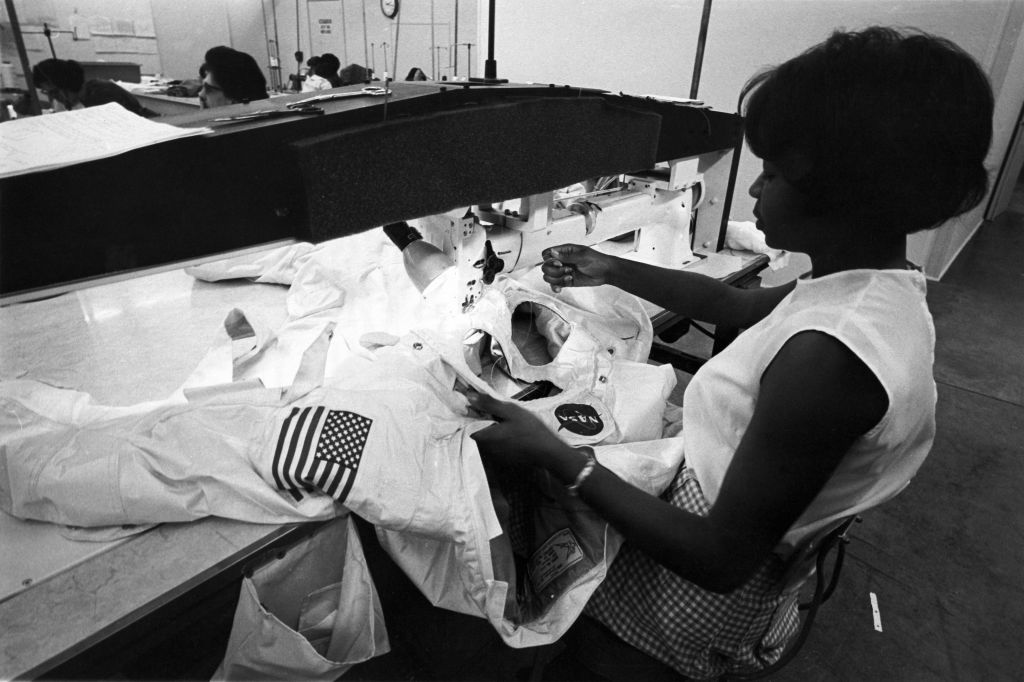 At ILC Dover, a team of expert seamstresses, on Singer sewing machines, designed and built the iconic suits worn by Neil Armstrong and Buzz Aldrin on the Moon in 1969, and essential to every Apollo mission. A total of 3 custom made suits were created for each astronaut, a training suit, a flight suit and a backup.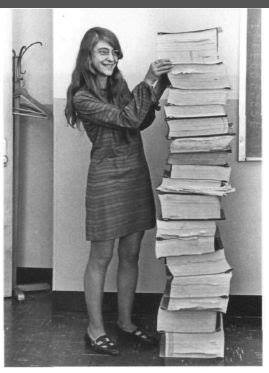 Margaret Hamilton
The code hardwired by a team of seamstresses that allowed the Apollo missions to fly, was created in part by Margaret Hamilton. Although not an astronaut, her contribution was critical to the success of Apollo, through the development the onboard guidance software for the Apollo mission as NASA's lead software engineer. and through her role as Director of the Software Engineering Division at MIT's Instrumentation Laboratory. Three minutes before the Apollo 11 lunar lander reached the Moon's surface, her work prevented an abort as computer alarms triggered. Due to her design the computer overcame it's overloading and took recovery action to rectify the issue, allowing the crew to land. "As a working mother in the 1960s, Margaret Hamilton was unusual; but as a spaceship programmer, Margaret Hamilton was positively radical. She would bring her daughter Lauren by the lab on weekends and evenings. While 4-year-old Lauren slept on the floor of the office overlooking the Charles River, her mother programmed away, creating routines that would ultimately be added to the Apollo's command module computer. "People used to say to me, 'How can you leave your daughter? How can you do this?'" Hamilton remembers. But she loved the arcane novelty of her job." Margaret was also a vanguard in business and founded Hamilton Technologies Inc. in 1986, a groundbreaking software company, becoming CEO alongside coining the term "software engineering".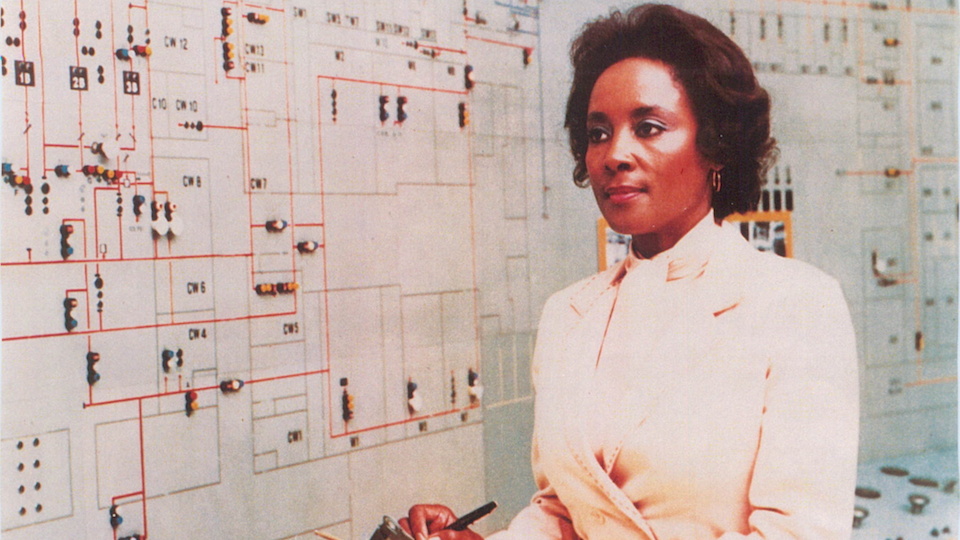 Annie Easley
During Annie Easley's 34-year career, she worked not only on technologies at NASA that led to hybrid vehicles, but additionally to create software that enabled spaceflight and exploration. She was encouraged at a young age by her mother who told her that anything was possible, "You can be anything you want to. It doesn't matter what you look like, what your size is, what your color is. You can be anything you want to, but you do have to work at it." At NASA, then NACA, Annie was literally a human computer and later, as actual computers were used to conduct calculations, a math technician. She made a decision to carry out a degree in mathematics and attended classes full-time at Cleveland State University, in addition to working full-time at NACA. Male colleagues had their tuition paid for, however she had to pay for her courses herself, with her own money. NASA later sponsored additional specialized courses, but only after she had paid for her degree. Her work includes research in alternative energy, analysing solar and wind technologies, determining the life use of storage batteries and identifying energy-conversion systems – supporting the batteries used in hybrid vehicles today. Her software development skills were invaluable during the development of the Centaur rocket, the most powerful upper stage in the US space program. The rocket would be used to launch weather & communications satellites in addition to exploration spacecraft – Pioneer, Viking, Voyager and Cassini.
You can be anything you want to. It doesn't matter what you look like, what your size is, what your color is. You can be anything you want to, but you do have to work at it.
The words of Dava Newman – NASA's Deputy Administrator and a fellow trailblazer – regarding Katherine Johnson's achievements ring true for each of these women, "We are fortunate that when faced with the adversity of racial and gender barriers, she found the courage to say tell them I'm coming."