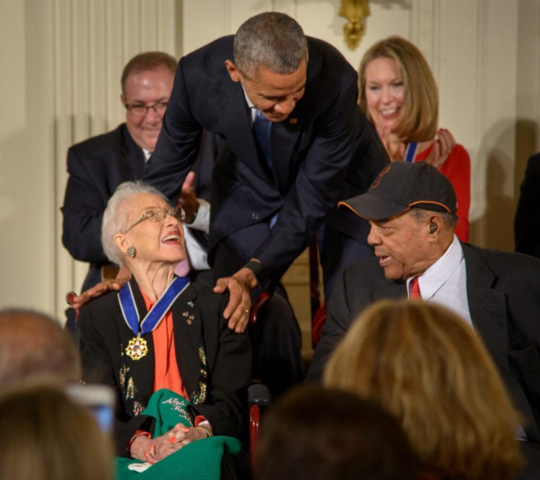 97-Year-Old Katherine Johnson played a role in every major US space program, from Alan Shepard's inaugural flight to the Space Shuttle. Today she became a recipient of the Presidential Medal of Freedom, the United States' highest civilian honor, for a hugely influential career in mathematics.
Johnson's inspirational work for the U.S. space program predates the creation of NASA. She began to work for the National Advisory Committee for Aeronautics, or NACA in 1953 where women had been hired to calculate results, this in an era prior to the modern electronic computer. The job title of these women were "Computer." Johnson's computations on flight trajectories were used on Alan Shepard's inaugural flight (First American in Space), John Glenn's orbit of the earth and the 1969 Apollo 11 moon landing.
"I counted everything. I counted the steps to the road, the steps up to church, the number of dishes and silverware I washed … anything that could be counted, I did." – Katherine Johnson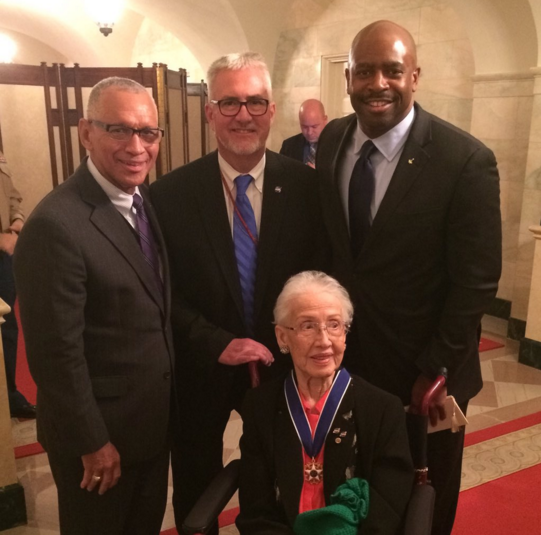 A newly released statement by Dava Newman, NASA's Deputy Administrator encompasses the feelings of many women in STEM (Science, Technology, Engineering, Mathematics).
"The reach of Katherine Johnson's leadership and impact extends from classrooms across America all the way to the moon. Katherine once remarked that while many of her colleagues refrained from asking questions or taking tasks further than merely 'what they were told to do,' she chose instead to ask questions because she 'wanted to know why.'
"For Katherine, finding the 'why' meant enrolling in high school at the age of 10; calculating the trajectory of Alan Shepherd's trip to space and the Apollo 11's mission to the moon; and providing the foundation that will someday allow NASA to send our astronauts to Mars. She literally wrote the textbook on rocket science.
We are all so fortunate that Katherine insisted on asking questions, and insisted on relentlessly pursing the answers. We are fortunate that when faced with the adversity of racial and gender barriers, she found the courage to say 'tell them I'm coming.' We are also fortunate that Katherine has chosen to take a leading role in encouraging young people to pursue education in the STEM disciplines of science, technology, engineering, and math.
Katherine was born on National Equality Day. Few Americans have embodied the true spirit of equity as profoundly or impacted the cause of human exploration so extensively. At NASA, we are proud to stand on Katherine Johnson's shoulders."