The founder of Rocket Women
My name's Vinita Marwaha Madill and I'm an advocate for women in STEM, with a drive to inspire the next generation. I'm passionate about human spaceflight and exploration. Most recently I've been based at the European Space Agency (ESA) (via TERMA B.V.) working on future human spaceflight projects as a Space Operations Engineer, mainly for the European Robotic Arm (ERA) project, due to be launched to the International Space Station (ISS) next year.
I've also been involved in spacesuit design for the European Space Agency (ESA) along with working as an Operations Engineer for the International Space Station at the German Aerospace Centre (DLR). Being based at Germany's version of "Mission Control", I guided astronauts through experiments on the ISS and was involved in astronaut training.
In 2012, I founded the global platform Rocket Women, which aims to inspire women around the world and provide advice on working in the space and technology industries, along with providing a scholarship for women in STEM through its apparel proceeds. I was fortunate to be named as one of the top 100 Most Influential Women Leaders in Engineering in the UK & Europe by the Financial Times 2019 and nominated for the Women of the Year awards in the UK. Presently, I'm focused on developing space outreach projects globally to inspire the next generation.
Our mission is to inspire women around the world and provide advice on working in the space and technology industries. Over my career I've worked with and gained advice from amazing women and I wanted to share this with everyone. giving these women a voice & platform.
Rocket Women will be featuring interviews with successful women from the space industry, technology, aerospace and science research. This includes astronauts, commercial spaceflight engineers, space lawyers and more! Our interviews posted on the site will hopefully inspire you and show that you can be a Rocket Woman too! Rocket Women will also feature the latest news and advice on working in the space & tech industries, including current events.
Proceeds raised from the sales of our stunning new apparel will support a scholarship for a Rocket Woman to study science & engineering. This year we're thrilled to partner with the International Space University (ISU) to help to send a woman to study at the Space Studies Program (2020)!
Contact me: [email protected]
Twitter: @rocket_woman1 / @RocketWomen_
Instagram: @vmarwaha / @RocketWomen
I'm also a consultant offering the following services:
STEM Educational Outreach, Diversity & Women In STEM public speaker. On-camera & live radio experience (Learn about my recent projects at LinkedIn).
Freelance Writer – Topics including Women In STEM & Human Spaceflight Exploration.

Spacesuit (EVA suit) Design, Crew/Astronaut Training and Human Spaceflight Operations expert. Clients include the European Space Agency (ESA) & Wyle GmbH..
Technical Writing and Procedure Development. Experience with crew/astronaut procedure development.
Project & Program Management. Over 8 years of Project & Program Management experience, through roles including Line of Business Owner & Engineering Manager, successfully managing a team of 10 engineers & a $2.2 M budget.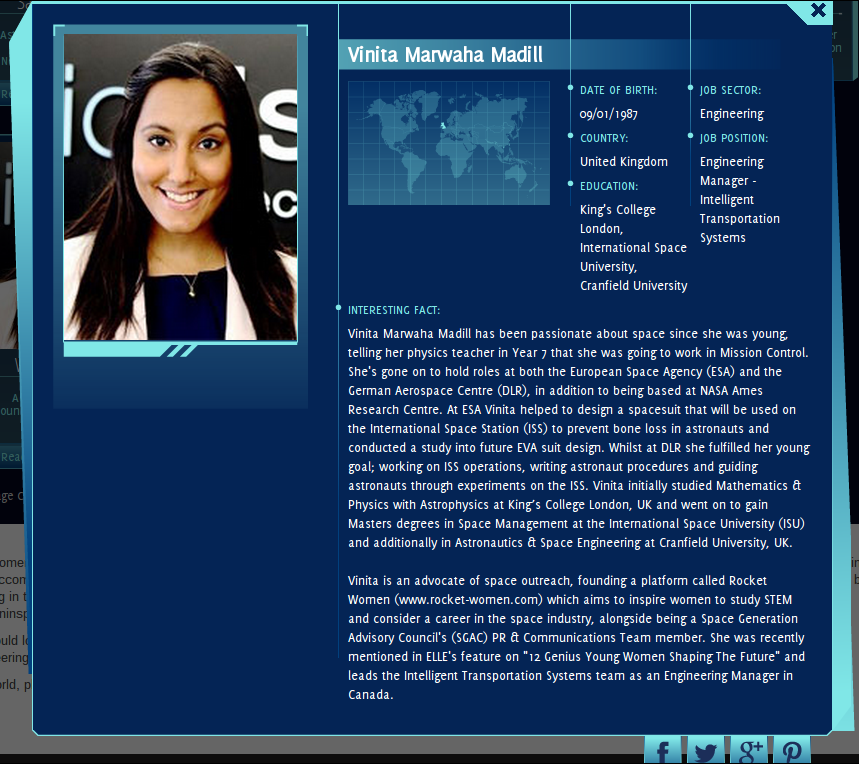 Featured In The Telegraph's Women In Space Database