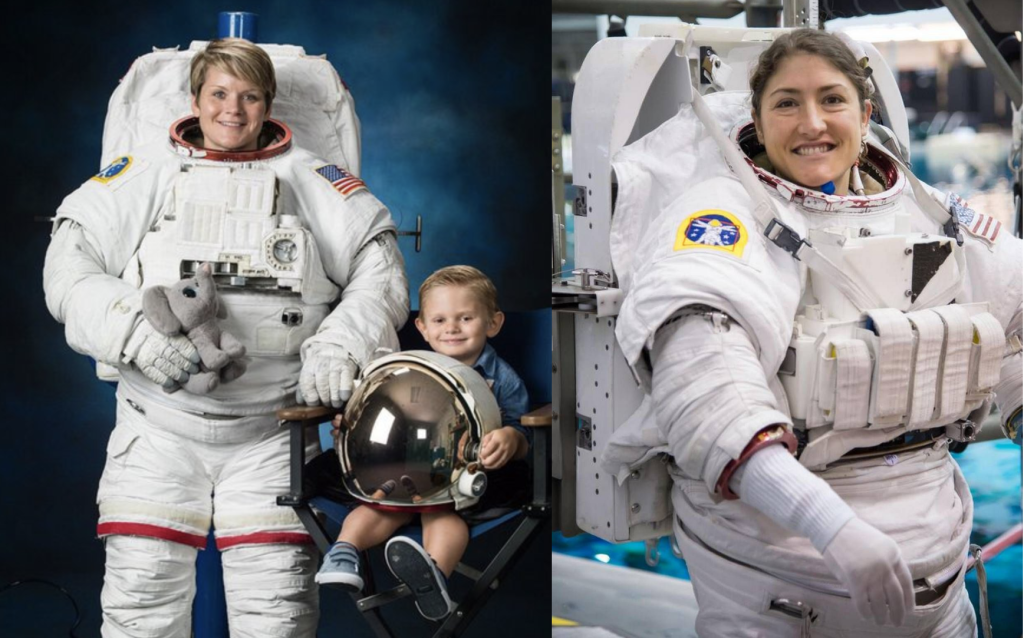 NASA Astronauts Anne McClain and Christina Koch are scheduled to make history, conducting the first all-female spacewalk (or EVA – Extravehicular Activity) on 29th March 2019, during Women's History Month. Almost 35 years after Cosmonaut Svetlana Savitskaya became the 1st woman to walk in space on 25th July 1984.
The news was broken by the awesome Rocket Woman Canadian Space Agency Flight Controller Kristen Facciol, who will be supporting the spacewalk from the ground on the ROBO console in NASA's Mission Control. (Read Rocket Women's interview with the inspirational Kristen Facciol here!)
Rocket Women shared Kristen Facciol's news through Twitter a few days ago. Kristen broke the news saying: "I just found out that I'll be on console providing support for the FIRST ALL FEMALE SPACEWALK with @AstroAnnimal and @Astro_Christina and I can not contain my excitement!!!! #WomenInSTEM #WomenInEngineering #WomenInSpace."
Amazing – we can't wait for this spacewalk! The FIRST ALL FEMALE SPACEWALK will be conducted on 29th March by #RocketWomen @AstroAnnimal & @Astro_Christina 👩🏼‍🚀👩🏻‍🚀, supported in @NASA_Johnson #MissionControl by the awesome @kfacciol! 💪🏼🚀 @csa_asc #WomenInSTEM https://t.co/Xad89akh6T

— Rocket Women (@RocketWomen_) March 2, 2019
The title of the most experienced female spacewalker (and the third most experienced spacewalker ever) is held by NASA Astronaut Peggy Whitson. Peggy's astounding 665 days in space (cumulative) also makes her the most experienced NASA Astronaut ever! Peggy Whitson made history in 2008 as she took over command of the International Space Station (ISS), becoming its first female commander.
A spokesperson from NASA confirmed that the 29th March spacewalk will be supported in NASA's Mission Control by lead Flight Director Mary Lawrence, and lead EVA (spacewalk) flight controller Jackie Kagey. The recent 2018 NASA flight director class chosen was 50% female, as was the 2013 NASA Astronaut class that both Anne McClain and Christina Koch were selected in, the highest female ratio chosen.
The most recent 2017 NASA astronaut selection brought the percentage of female NASA astronauts in the NASA Astronaut Corps to just over 30%, this thirty years after Sally Ride became the first American woman in space. Here's to hoping that all-female spacewalks will become commonplace in the future!