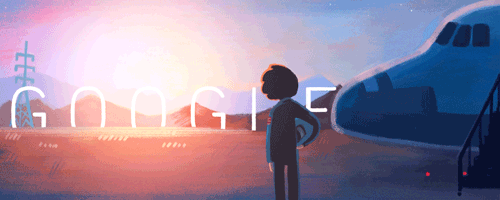 Today's Google doodles celebrate what would've been the 64th birthday of Sally Ride, the first American woman in space. Throughout her career at NASA Sally  informed major space policy decisions by being a presidential panel member of the 2009 Review of United States Human Spaceflight Plans Committee. This was an independent review of US Human Spaceflight Policy and resulted in fundamental changes made to the US space program. Sally Ride was a strong supporter of women's education in science and engineering, co-founding Sally Ride Science, a science education company that creates entertaining science programs for 4-8th grade students, specifically focusing on girls and minority students.
Sally devoted her life to science and inspiring others to explore the wonders of STEM. Said in her own words, "Everywhere I go I meet girls and boys who want to be astronauts and explore space, or they love the ocean and want to be oceanographers, or they love animals and want to be zoologists, or they love designing things and want to be engineers. I want to see those same stars in their eyes in 10 years and know they are on their way!"
"Maybe her Doodle will motivate some girl or boy somewhere in the world to become a scientist and adventurer just like Sally." – Tam O'Shaughnessy—life partner of astronaut Sally Ride, and co-founder & CEO of Sally Ride Science.
Today's inspirational Google Doodles are below: