If you're wondering what to buy your 9 year old niece for Christmas this year, then look no further.
Goldieblox, the company founded by Stanford engineer Debra Stirling, has added to their mission to 'disrupt the pink aisle' by releasing a new doll and campaign against 'Big Sister'. Their previous ad campaign earned them an ad slot during the 2013 Super Bowl.
In their new ad, girls dressed in strappy heels and pink dresses, line up to take pretty, skinny Barbie-esque dolls from a conveyor belt, with 'Big Sister' on screens conveying in an Orwellian overtone, "You are beauty, and beauty is perfection."
One girl in the line-up however, doesn't conform to pick up a doll from the conveyor belt, but destroys the screen using a hammer and alters the machine to create Goldie, a doll with blonde curly hair, red 'Chucks' and a hammer. The ad with the tagline, "Other dolls are built for fashion, Goldie is built for action", should help to promote brains over beauty, essential at a time when girls decide by the age of 11 to move away from science. Something that Disney's Frozen Elsa doll and Barbie are lacking. A recent study also suggested that playing with Barbies has an effect on young girls' ideas on their place in the world and limits their sense of what's possible in the future.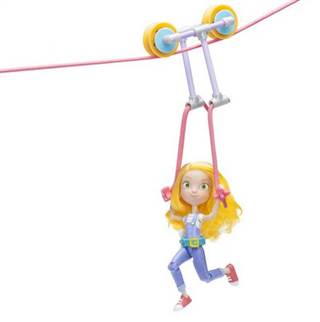 If I personally had to name the biggest obstacle that I had to face during deciding on a career path it would be overcoming preconceived ideals. I'd always known that I wanted to work in the space industry, however it wasn't a career path that was expected for a girl, especially at an all-girls school. I had to prove to others around me and to myself that it was possible. If the Goldie doll helps to mould attitudes at a young age and encourages girls to study STEM, opening up the possibilities of a science or engineering-based career, I think it'll make a difference in the career decisions young girls eventually make. It's a fantastic gift idea with the doll being released just in time for Christmas!
Here's my older post on Goldieblox's previous ad and the importance of 'Being Inspired Young'.