Wednesday 12th November, 2014: The date history was made.
An achievement solely made possible through the efforts and countless hours of work by scientists & engineers at DLR (German Aerospace Centre), CNES (Centre national d'études spatiales – French Space Agency), ESA (European Space Agency) and through partnerships with companies and space agencies globally. The mission has been ongoing for over a decade, since it's launch on 2nd March 2004. Travelling over 6.4 billion kilometres (4 billion miles) to reach it's destination, Comet 67P/Churyumov-Gerasimenko, the Philae lander separated from the Rosetta spacecraft and seven (nail-biting) hours later soft-landed on the surface of the comet. It in fact landed a total of 3 times, bouncing twice, initially 1km off the comet before finally coming to rest (landing at 15:33, 17:26 & 17:33 UTC.).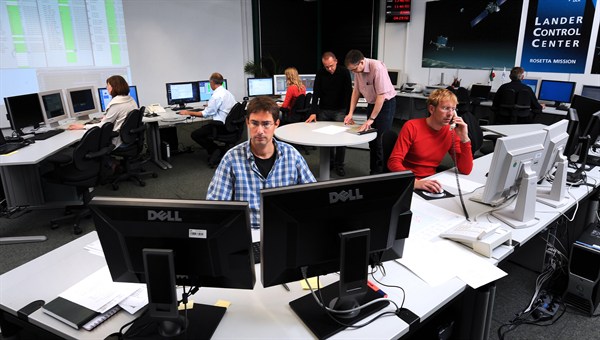 I was lucky enough to work at DLR MUSC (Microgravity User Support Centre) with the fantastic Philae Lander team whilst operating payloads on the ISS (International Space Station). Landing Philae, a spacecraft the size of a household fridge, on a 3-mile-long comet travelling at 80,000 miles per hour is no easy task. Arduous work that ESA's Director General Jean-Jacques Dordain mentioned in his congratulatory speech as success made look easy.
Due to their work we're lucky to have a multitude of scientific discoveries to come. Comet 67P is over 4 billion years old, older than the Earth itself. Through the Rosetta mission we will hopefully discover whether comets are responsible for bringing life to Earth, through the prebiotic molecules and water, along with gaining a deeper insight into the origins of our solar system, our own home. After landing, telemetry showed that Philae had actually sunk four centimeters into the surface of the comet, indicating a partially-soft surface.
The photos below show the sheer emotion of the entire Rosetta/Philae team when learning that Philae had touched down on the surface of 67P. As said after the successful landing, 'We hope that the Rosetta mission will inspire the next generation to go to space, just as Apollo has done for us." It indeed looks as though the Rosetta mission has caught the world's imagination, with the top 3 trending topics on Twitter in London, UK yesterday being #CometLanding, #Rosetta and #Philae. With #CometLanding or Comet being mentioned in 479,434 tweets! Here's hoping that the young people watching the Rosetta mission are inspired to study STEM (Science, Technology, Engineering, Mathematics) and create their own extraordinary achievement in the years to come.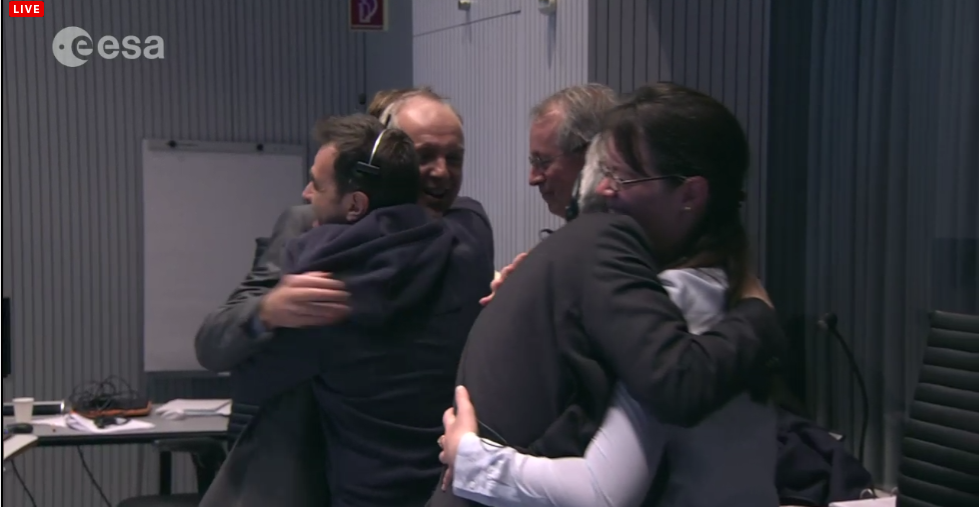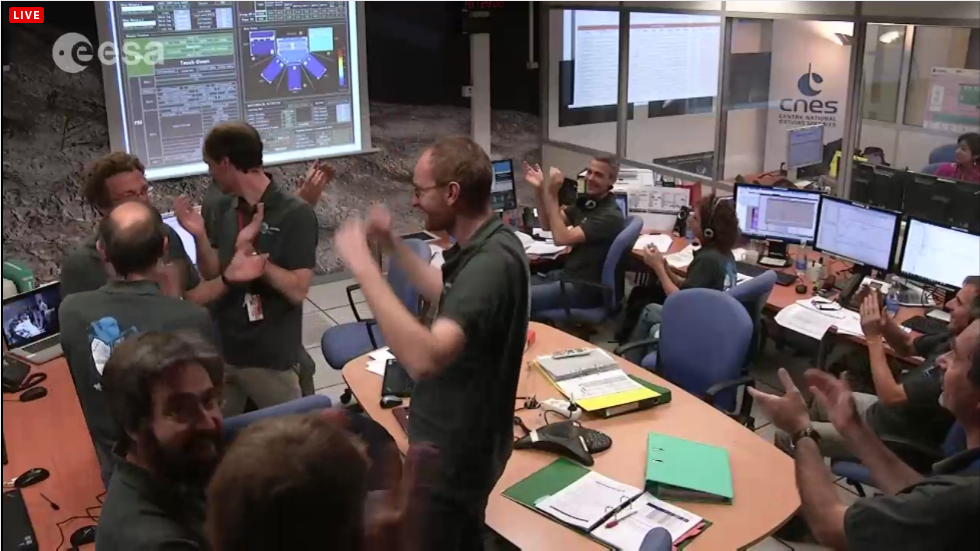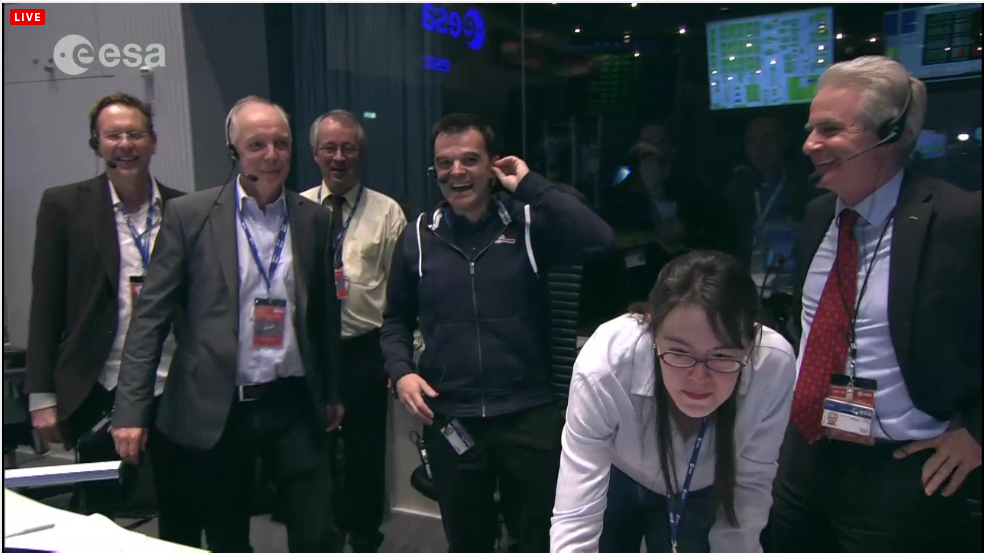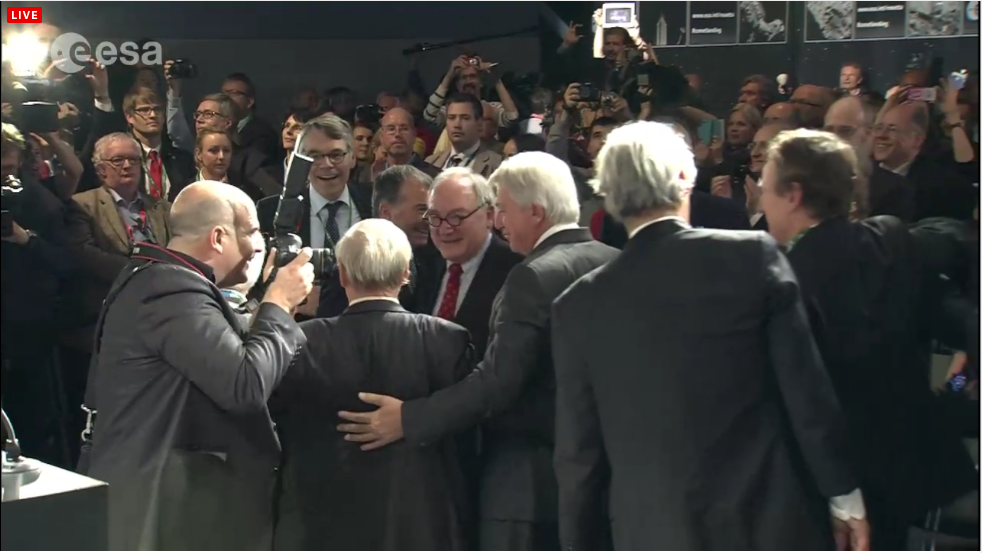 Sidenote: On a less positive note, the unfortunate choice of attire by a Rosetta scientist (live on air in a broadcast watched by hundreds of thousands worldwide), brought an uncalled-for distraction from the amazing achievements of hundreds of scientists and engineers who had meticulously planned the project over the previous 25 years. After the science gained and successful landing of Philae, the next most talked about Rosetta-related topic on social media was the scientist's (who I'm sure is extremely talented in his own right) choice to wear this: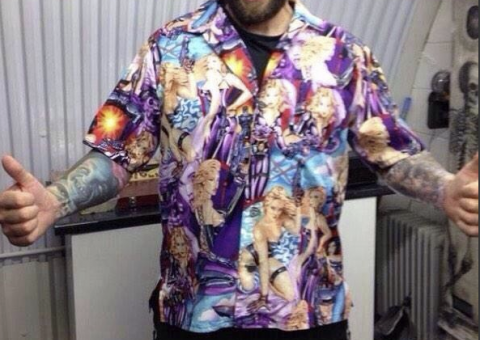 I wanted to say that this choice of attire isn't the norm of scientists and operations engineers in the space industry or in a STEM career, especially considering the scientist was on a LIVE on-air broadcast. With formal attire worn at NASA's Mission Control for on-camera personnel and those on-console, Europe's (mission polo-heavy) control centres are certainly not a place where the offending shirt would be welcome. I've certainly never seen anything like this during my time on-console carrying out ISS payload operations or whilst working at any of ESA or DLR's centres. I strongly hope this doesn't dissuade anyone from following a career into space operations, or takes away from the astonishing scientific achievement conducted by the team. Spacecraft operations is an extremely rewarding career, as I'll talk about in my next post!