By Mansi Joshi
When it came to our gift guide, we wanted to compile a list of our most-loved timeless items – we hope you will love them as much as we do!
1. Rocket Women Christmas Jumper
We here at Rocket Women are over the moon to announce the release of our brand new Christmas Jumper! The design features our logo with a few extra seasonal sprinkles, perfect for the holiday season! As well as finding yourself a warm gift, you will be celebrating the season of giving with proceeds from all of our merchandise going towards a scholarship supporting Women In STEM! Shop the Rocket Women Christmas addition to our collection now here.
2. Svaha USA – Rings of Saturn Twirl Skirt

Svaha USA Rings of Saturn Twirl Skirt [Image: Svaha USA]
We absolutely love Svaha USA's stunning design collection for adults and kids, especially this beautiful Rings of Saturn  Twirl Skirt that invokes joy! Svaha USA's entire beautiful collection is designed to celebrate STEM – their incredible A Pocket Full of Sunshine Appliqué Ada Dress and Constellations Glow-in-the-Dark Katherine Dress also get special mentions!
3. AviateHer Pin

AviateHer pins [Image: AviateHer]
AviateHer is a one woman run etsy store, created by aerospace engineer Krystina Pearson-Rampeearee, to showcase diversity in STEM. The enamel pins boldly challenge stereotypes and ooze elegance and simplicity. Shop now here.
4. Kellie Gerardi – Not Necessarily Rocket Science
 

 

View this post on Instagram

 
Kellie Gerardi is one woman on a mission. Not only is she an industry professional, she is also an author and a popular science communicator. Her book 'Not Necessarily Rocket Science: a Beginners Guide to Life in the Space Age' is a must read for anyone dreaming about space. She also has a trendy, space age merchandise range. Find more on her website at https://www.kelliegerardi.com/
5. Sarah Cruddas – Look Up
 

 

View this post on Instagram

 
With an academic background in astrophysics, Sarah Cruddas is known for her space journalism and being an award winning author. She has spoken on many leading TV channels and is a passionate advocate for space. In her latest book, 'Look up: our story with the stars', she explains why space should matter to everyone and how relevant space is to our day to day life. Learn more about her work and her books at https://sarahcruddas.com/
6. Rocket Women Apparel Range & Pin by Science On A Postcard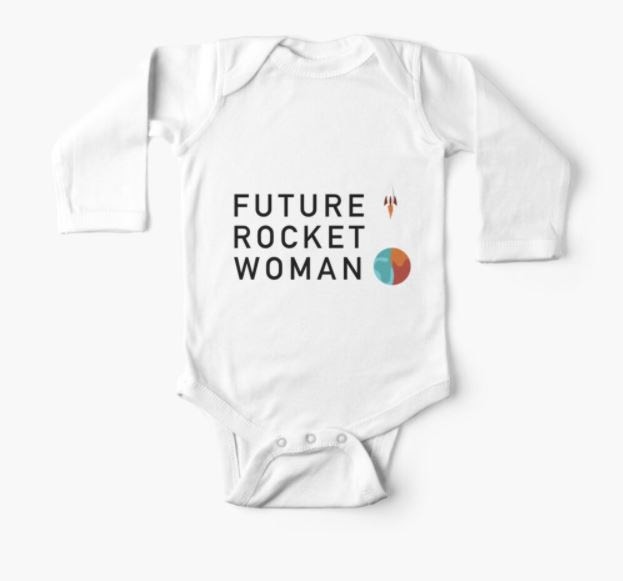 If you are reading this guide, our very own Rocket Women adults & kids apparel along with our brand new pin are the perfect match for you! Whether buying for yourself or as a gift, the Rocket Women range not only looks great, the proceeds from all of our apparel merchandise goes directly towards a scholarship supporting women in STEM! What better way to give this season than to grab yourself a fantastic gift as well as support the next generation of changemakers in STEM. We stock clothing apparel for babies, kids and adults as well as a range of accessories from pillows, to tote bags to mugs! We also have stickers to jazz up any of your own furnishings! Shop now at https://www.redbubble.com/people/RocketWomen/shop?asc=u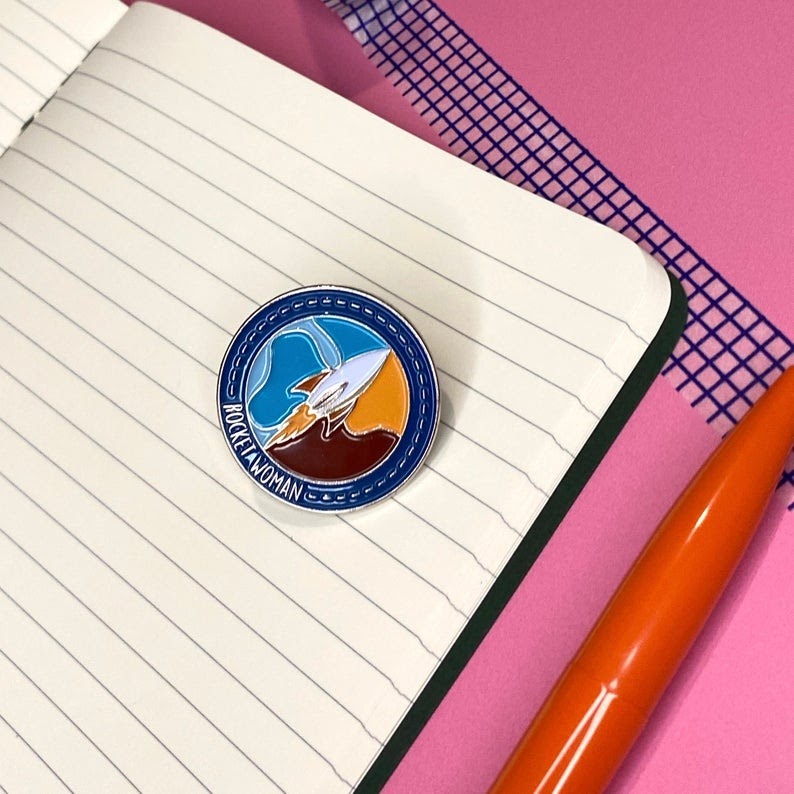 Rocket Woman pin design by Science On A Postcard (based on Rocket Women logo design by Marka Design)
Don't miss our NEW Rocket Woman pin by independent designer 'Science On A Postcard', based upon our stunning logo by Marka Design!
Especially For The Kids
7. Butterfly Books
 

 

View this post on Instagram

 
Butterfly Books mission is to raise awareness to children of the different career options with the goal to improve diversity. Founded by sister and brother duo Kerrine and Jason Bryan, Kerrine uses her own experience of the misconceptions around the engineering profession she encountered as a child. Now as a qualified electrical engineer, she uses the books to communicate a positive message, specifically around STEM professions that are suffering skills gap and diversity issues. Find out more about butterfly books and shop at https://www.butterflybooks.uk/
8. Iola and Effie Designs
 

 

 

View this post on Instagram

 
'Empowering girls through conscious clothing' – iola and effie is a brand built by a mum to encourage young girls to embrace their curiosity through clothing that makes a positive impact. Breaking out of the norm, the designs stand loud and proud, exuding confidence, individuality and unapologetic STEM vibes. Not only do they do clothing, they stock bags, earrings and hair clips for all the future (and current) STEM enthusiasts. If you sign up to their club you will receive 15% off your first order! Happy shopping at https://www.iolaandeffi.com/
9. Emily Calandrelli's Ada Lace Adventures Series
 

 

View this post on Instagram

 
Emily Calandrelli is a real life Rocket Woman. Starting her career as an engineer, then science communicator and hosting and producing her own show on Netflix, Emily's Wonder Lab, she is commonly known as 'TheSpaceGal'. If that wasn't enough, she is also the author of children's book series Ada Lace Adventures, of which one was launched to the International Space Station! Shop for her books and learn more at http://www.thespacegal.com/
10. Cutie and the Feast's Science Pocketbooks
 

 

View this post on Instagram

 

Cutie and the Feast is a homemade etsy page, boasting creative science pocketbooks as well as space inspired kids snack plates and christmas ornaments. Keep up with the latest offers and news on their facebook or instagram page and shop at https://www.etsy.com/uk/shop/CutieandtheFeast