The Super Bowl is one of the biggest sporting events in the world. It's iconic games have frequently been amongst the most watched television broadcasts in the United States, with Super Bowl commercials shown during the games reaching millions of viewers (Super Bowl 2019 viewing figures were a reported staggering 149 million!).
Olay the skin care company, this week released it's 30 second commercial due to air during the fourth ad break of Super Bowl 2020. The ad features NASA astronaut (ret.) Nicole Scott, actors Busy Philipps, Taraji. P. Henson, television personality Katie Couric and entertainer Lily Singh. Real-life-astronaut Nicole Stott, Lilly Singh and Busy Philipps play astronauts launching on a fictional Olay space mission to #MakeSpaceForWomen, with Taraji. P. Henson supporting from Earth as part of Mission Control and Katie Couric as a TV reporter covering the mission.
The ad's campaign named "Make Space For Women" supports the vision of encouraging young women to choose STEM (Science, Technology, Engineering and Maths), and brilliantly features a real-life Rocket Woman and Astronaut Nicole Stott.
The Super Bowl ad comes just weeks after the historic first ever all-female spacewalk conducted by NASA astronauts Jessica Meir and Christina Koch. Outreach messages like these are needed especially to encourage the next generation to follow their passion in STEM and to increase the number of women in science and engineering. With NASA's astronaut corps edging closer and making strides towards gender equality, Olay's Super Bowl advert will help to spread awareness and reach out to young women aiming to achieve their goals in the space industry and otherwise. The message is loud and clear, any girl, anywhere in the world, like these five Rocket Women can take up anything, become anything that they set their mind to.
Each time a user tweets using the hashtag #MakeSpaceForWomen, Olay will donate one dollar (up to $500,000) to the nonprofit Girls Who Code.
Olay is also taking this a step forward by donating proceeds from the commercial to Girls Who Code – a nonprofit that supports young women in computer related fields. Each time a user tweets using the hashtag #MakeSpaceForWomen through Twitter, Olay will donate one dollar (up to $500,000) to the nonprofit Girls Who Code. This fantastic social media fund-raising endeavor is ongoing until 3rd February 2020.
In an interview with collectSpace, Nicole Stott discussed the impact that she hopes Olay's #MakeSpaceForWomen ad will make on the aspirations of the next generation, "But young girls seeing those women present, and then including a real astronaut, too, in this space-themed advertisement, I think it was genius. I think it allows it to be a very legitimate medium for a campaign that is encouraging young women in STEM."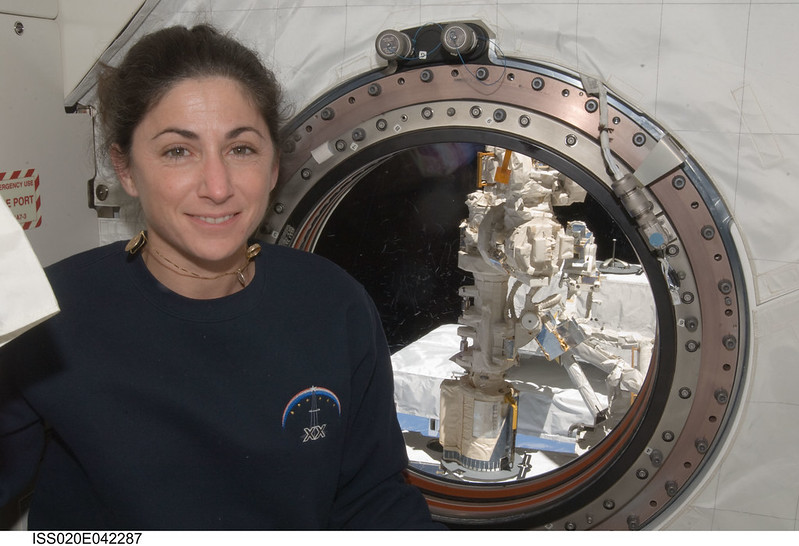 Olay released the teaser trailer for the advert to correspond with the second all-woman spacewalk on 15th January, carried out by NASA Astronauts Christina Koch and Jessica Meir, and amazingly donated $25,000 in each of their names to Girls Who Code!
At Rocket Women, we're excited for the impact that Olay's Super Bowl ad will have to inspire future Rocket Women. As NASA Astronaut Mae Jemison rightly said,"It's your place in the world, your life. Go and do all that you can do with it."
Written by Savri Gandhi
(Edited by Vinita Marwaha Madill)