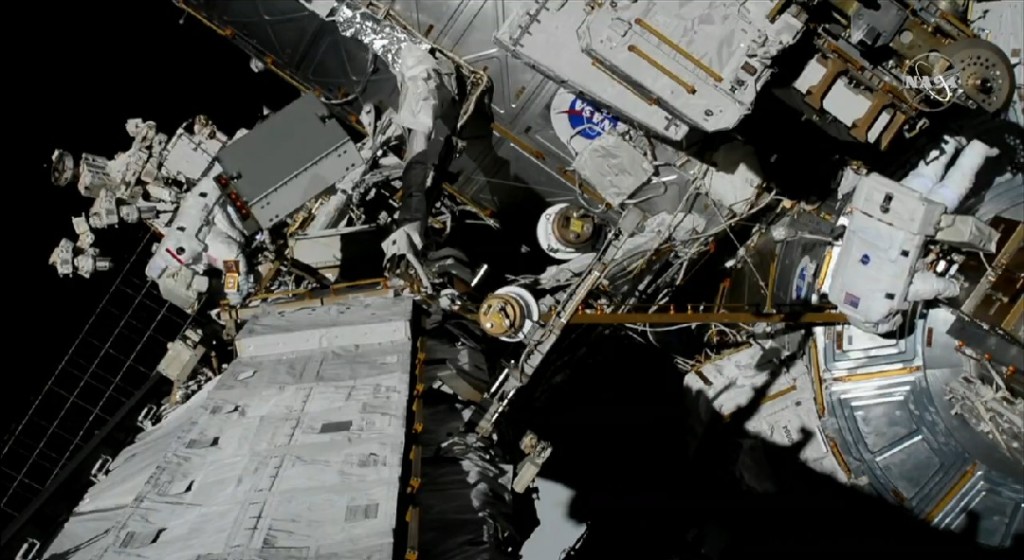 Soviet Cosmonaut Svetlana Savitskaya became the first woman to carry out a spacewalk on 25th July 1984, almost 35 years ago. Of the more than 500 people who have been to space, around 10% have been female, and until this week spacewalk teams have either been all-male or male-female, with 15 women having ever carried out a spacewalk or EVA (Extravehicular Activity). [For comparison, there have been 213 male spacewalkers)
Rescheduling Spacewalks
However, on Friday 18th October 2019 history was made as NASA Astronauts Jessica Meir and Christina Koch ventured outside of the Quest airlock on the International Space Station and carried out the first all-woman spacewalk, a feat long-overdue. The spacewalking Rocket Women were originally scheduled to carry out a spacewalk on 21st October, however due to the failure of a power controller called a battery charge discharge unit (BCDU) after 19 years of operation onboard the station, their spacewalk was rescheduled to an earlier date and replanned. The BCDU 'regulates the charge to batteries that collect and distribute power to the station'. Originally this spacewalk was planned to have had the crew install new lithium-ion batteries on the space station, to replace the older nickel-hydrogen batteries, however this task was postponed.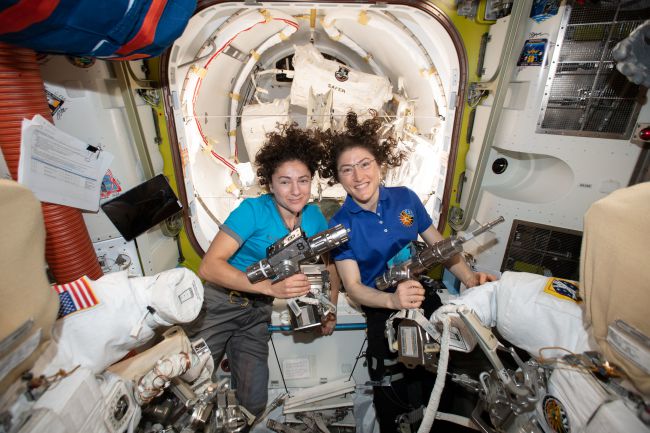 During an interview on NASA TV about their upcoming joint spacewalk, NASA Astronaut Christina Koch said, "I think it's important because of the historical nature of what we're doing, and that in the past women haven't always been at the table. It's wonderful to be contributing to the human spaceflight program at a time when all contributions are being accepted, when everyone has a role, and that, in turn, can lead to an increased chance of success. There are [also] a lot of people that derive motivation from inspiring stories from people that look like them, and I think it's an important aspect of the story to tell."
There are [also] a lot of people that derive motivation from inspiring stories from people that look like them, and I think it's an important aspect of the story to tell.
Friday's 7 hour 17 minute spacewalk was deemed a success with the battery charge-discharge unit fully powered up and running well.
NASA Astronaut Selection Progress
Both Christina and Jessica were selected in NASA's 2013 Astronaut Class (nicknamed Eight Balls), the first class to have a 50% gender split, the highest female ratio selected, bringing the percentage of female NASA astronauts in the NASA Astronaut Corps to around 30%. This thirty years after Sally Ride became the first American woman in space. NASA and the global space industry are really looking forward, which is fantastic. The recent 2017 astronaut class has five girls out of a total of twelve astronauts, with two astronauts selected at twenty-nine years old.
Presidential Call
President Trump called the pair during the momentous spacewalk and initially mischaracterized their accomplishment, through announcing that,"This is the first time for a woman outside of the space station." The spacewalk was in fact the first to be conducted by two women, with women having taken part in 42 spacewalks previously with all male-female teams.
NASA Astronaut Jessica Meir responded (whilst outside the International Space Station, in orbit around the Earth travelling at 17,500 mph),
"We don't want to take too much credit, because there have been many other female spacewalkers before us. This is just the first time that there have been two women outside at the same time.

And it's really interesting for us. We've talked a lot about it up here. You know, for us, this is really just us doing our job. It's something we've been training for, for six years, and preparing for….And…we were the crew that was tasked with this assignment.

At the same time, we recognize that it is a historic achievement, and we do, of course, want to give credit to all of those that came before us. There has been a long line of female scientists, explorers, engineers, and astronauts, and we have followed in their footsteps to get us where we are today.

We hope that we can provide an inspiration to everybody….that has a dream and has a big dream and that is willing to work hard to make that dream come true — something that all of us that have made our way up here have done all throughout our lives. And I can tell you, the hard work certainly did pay off."
Spacesuit Sizing
Friday's spacewalk was the 221st spacewalk in support of the space station's assembly and maintenance. The first all-female spacewalk was originally meant to occur in March 2019, however due to the unavailability of a prepared and configured Medium Hard Upper Torso (HUT) size of the spacesuit it was postponed. NASA Astronaut Anne McClain, scheduled to take part in this 29th March 2019 spacewalk, found that a Medium Hard Upper Torso of the spacesuit would fit her better after her initial prior spacewalk in a Large size. Astronauts often train in a multitude of sizes and their sizing and preference may change on-orbit as their bodies adapt to a microgravity environment – including spinal elongation and fluid shifts.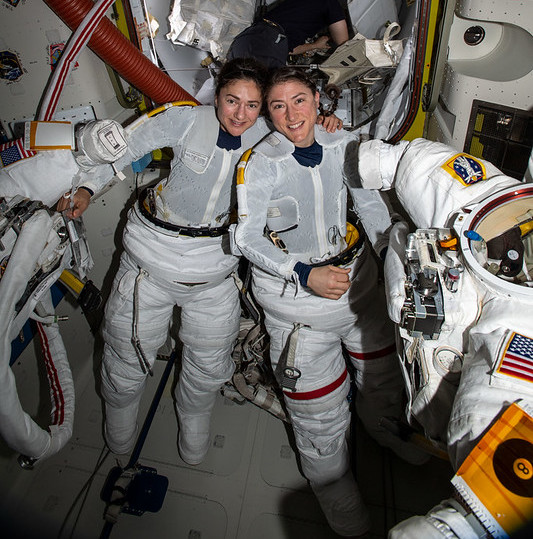 For the prior 29th March 2019 spacewalk, two spacesuits respectively with a Medium and Large sized Hard Upper Torso were prepared as initially expected. Due to the length of extra time required to prepare and configure an additional spacesuit with a Medium torso for the shortly upcoming spacewalk, an alternative crewmember (Nick Hague) took part in the March spacewalk instead of Anne McClain to protect the safety of the crew and the timing of the mission, a decision recommended by Anne McClain herself.
Artemis – The First Woman On The Moon
History-making NASA Astronaut Christina Koch is set to remain in space for an extended duration mission of 11 months (328 days) to provide researchers the opportunity to observe effects of long-duration spaceflight on a woman to prepare for human missions to the Moon and Mars. Her mission is set to break the record for the longest single spaceflight for a woman, currently held by NASA Astronaut Peggy Whitson who completed a 289 day mission in 2017.
On 8th October, NASA released their new spacesuit designs for future Artemis exploration missions to the Moon, and eventually to Mars, aiming to send the first woman and next man to the Moon by 2024. During a press conference prior to the historic all-woman spacewalk, NASA Adminstrator Jim Bridenstine mentioned the Artemis mission and stated, "We want, of course, to have space available to everybody, and we need to continually demonstrate that space is available to everybody…Of course, another reason this is significant is we are preparing right now to send the next man and the first woman to the moon, so this is all emblematic of that," he said.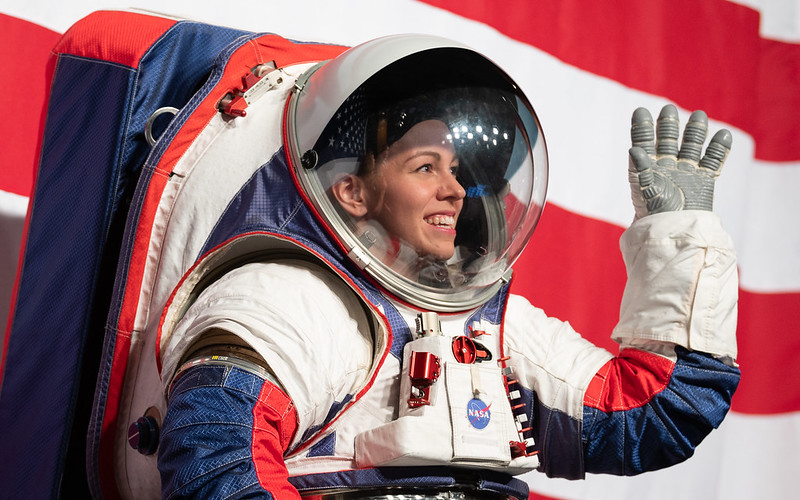 The new Exploration EMU (Extravehicular Mobility Unit) spacesuits designed for lunar exploration incorporate inclusive sizing with the ability to accommodate anybody from the "first percentile female to the 99th percentile male" according to NASA Spacesuit Designer Amy Ross.
To all those reaching to new heights: yes you can. #AllWomanSpacewalk pic.twitter.com/sPqfcK2ULy

— Christina H Koch (@Astro_Christina) October 20, 2019
Astronaut Ground Support
The first all-woman spacewalk was also supported by a team of Rocket Women on the ground (around half of the Mission Control Center personnel according to Twitter's @jennyonconsole)  including Astronaut Stephanie Wilson, who worked as the Capsule Communicator or CAPCOM during the spacewalk and communicated with the crew from NASA's Mission Control Center in Houston. Stephanie was selected as a NASA Astronaut in 1996 and previously flew on three shuttle missions (STS-121 in 2006, STS‑120 in 2007 and STS-131 in 2010). She was the second African American woman to go into space after Mae Jemison.  
Also fun fact, if the @Space_Station team roster is up to date, then today, about half of the overall Mission Control Houston team are women (including CRONUS woop! 🌟🌟🌟) 👩🏽👩🏻👩🏿👩🏼👩🏾 #AllWomanSpacewalk #spacewalk #WomenInSTEM

— Jenny On Console (@JennyOnConsole) October 18, 2019
At the end of the historic first all-woman spacewalk, NASA Astronaut and International Space University graduate Jessica Meir announced, "Today was especially an honor as we also recognize that this is a milestone. It symbolizes exploration by all that dare to dream and work hard to achieve that dream. Not only that, it's a tribute to those that paved the way for us to be where we are." [Proceeds from Rocket Women apparel support a scholarship for women to attend the International Space University!]
This month's spacewalk provided a vision of a future in which an all-woman spacewalk is no longer remarkable, but hopefully common place as the number of women in the astronaut corps globally increases and humanity ventures onwards to explore the Moon and Mars.