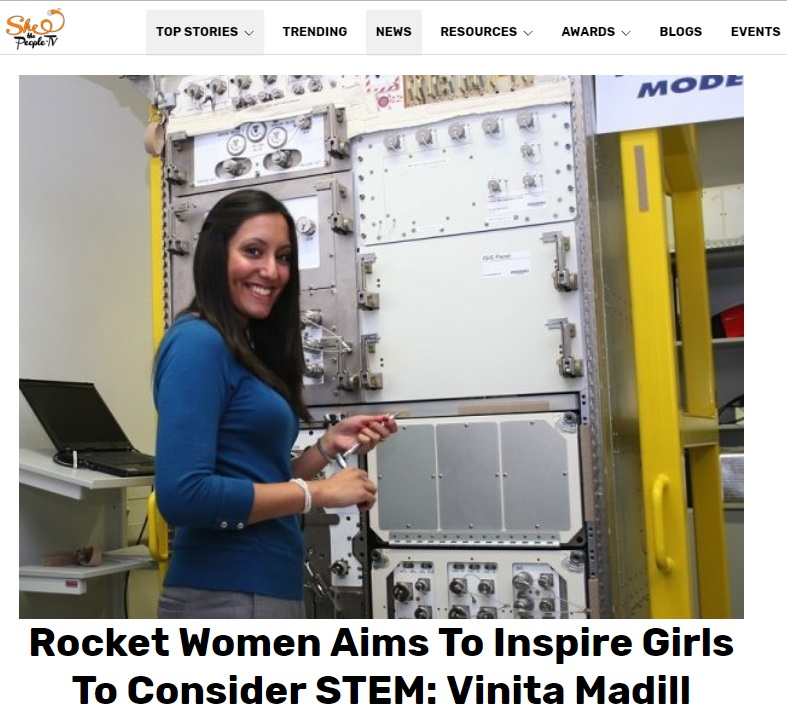 Rocket Women are honoured to be featured by She The People.TV! She The People.TV are India's first women's channel inspired by real stories and aim to change the discourse for women.
"There has always been a dearth of women in the field of science despite their phenomenal talent. Vinita Marwaha Madill, an advocate for women in STEM (science, technology, engineering and math), aims to not only work towards broadening this "acceptance", but also to encourage young girls to realise their true passion and build on it.
Having grown up in the United Kingdom, the Indian-origin woman is currently based at the European Space Agency (ESA) where she is working on future human spaceflight projects as a Space Operations Engineer. Vinita has also been involved in spacesuit design for ESA. Alongside holding several designations, Vinita, who is in her early-30s, has also started a platform, Rocket Women, to inspire women around the world and provide advice on working in the space and technology industries."
Read the full interview here at She The People.TV or the highlights below:
How did the idea of Rocket Women apparel line come up?
I noticed that over the years, the number of women that progressed with me to ultimately choose a career in engineering decreased, something which is called the 'leaky pipeline' syndrome. Only 15 per cent of UK engineering graduates are female, with the number of women ultimately choosing engineering decreasing further. In India, India Institutes of Technology (IITs) are reserving 14 per cent of the seats for women, aiming to encourage more women to apply in future.
Encouraging more girls to pursue engineering will help to fill this gap, ensuring that they make up 50 per cent of engineering talent and that we're not missing out on the talent available. The Rocket Women apparel collection was born from a desire to make a difference.
Proceeds from Rocket Women clothing will support a scholarship for young women who choose to study engineering and science. Representation matters and scholarships play a pivotal role in encouraging diverse talented individuals to pursue opportunities in STEM that may have not have had that chance otherwise.
Without the fortuity of scholarships myself, I would have never had been able to complete my studies internationally and to reach my goals in the space industry. With Rocket Women, we want to empower women with our apparel and messaging to become Rocket Women, whilst also building opportunities for future young women through proceeds supporting a scholarship
How will Rocket Women inspire young girls and women to understand their passion and pursue it?
My passion, and the goal of my website Rocket Women is to inspire girls globally to consider a career in STEM. Outside of my career path in space, I realised there was something more. With Rocket Women, we're focusing on outreach and I've been lucky to be involved in projects, including a campaign and round table with Instagram and Canadian Prime Minister Justin Trudeau, highlighting the importance of education.
During my career, I've met some amazing people — especially other positive female role models. I think you need those role models out there, tangible and visible, to be able to inspire the next generation of young girls to become astronauts, or be whatever they want to be. As Sally Ride, the first American woman in space, said, "You can't be what you can't see." It's one of my favourite quotes and is absolutely true.
I started Rocket Women to give these women a voice and a platform to spread their advice. I'm interviewing women around the world in STEM, particularly in space, and posting the interviews on Rocket Women, along with advice to encourage girls to be involved in STEM.
By featuring stories of women in STEM, we want Rocket-Women.com to give young women and girls the realisation that they can be astronauts or whatever they want to be. Our aim is to empower young women to choose a career in STEM (Science, Technology, Engineering, Maths) and achieve their dreams, so that we can improve the current percentage of female engineering talent.
We're driven at Rocket Women by this powerful thought – Imagine what the world would look like if it reached 100% of its technological potential?
Read the full She The People.TV article here!