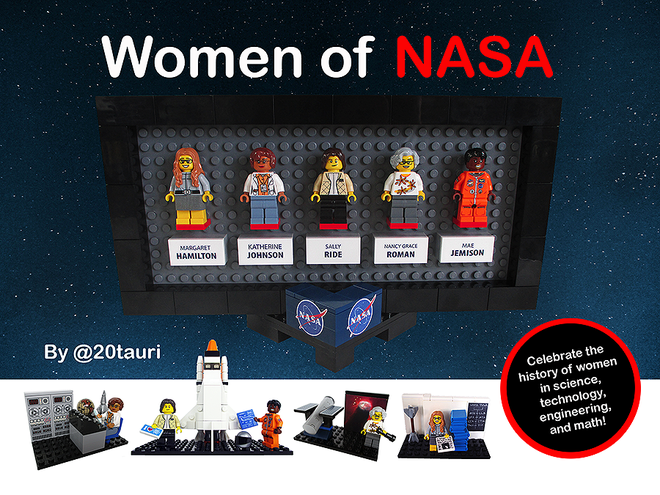 Katherine Johnson, Sally Ride, Margaret Hamilton, Nancy Grace Roman, Mae Jeminson. These five names of women at NASA, although unfamiliar to the public at present, will hopefully soon be immortalised and their trailblazing stories used to inspire the next generation. A fantastic LEGO "Women Of NASA" set featuring the two astronauts, Sally Ride and Mae Jeminson – the first American woman in space and the first African-American woman in space, and three scientists is ready to be voted for on the Lego Ideas website. If the set receives 10,000 supporters it will be one step closer to becoming a commercial set available in stores!
"Women have played critical roles throughout the history of the U.S. space program, a.k.a. NASA or the National Aeronautics and Space Administration. Yet in many cases, their contributions are unknown or under-appreciated — especially as women have historically struggled to gain acceptance in the fields of science, technology, engineering, and mathematics (STEM).
This proposed set celebrates five notable NASA pioneers and provides an educational building experience to help young ones and adults alike learn about the history of women in STEM."
Read more about the Lego "Women of NASA" set here.
UPDATE: Lego has announced that the "Women of NASA" set is set to become a reality! The set featuring 'Hidden Figures' Katherine Johnson, Margaret Hamilton, Nancy Grace Roman alongside NASA astronauts Sally Ride and Mae Jeminson, has been approved to production and will be coming to a store near you soon! I'm excited for the conversations this set will bring, from the parents teaching their children about the stories of these inspirational women as they build the set to how the set will help to show that a career in space is for everyone.