The latest NASA astronaut class to be chosen had the highest percentage of female astronauts selected at 50%. This taking place in 2013, the year celebrating the 50th anniversary of  the First Woman In Space, Valentina Tereshkova (& the 30th Anniversary of the First American Woman in Space, Sally Ride). Four out of the new eight astronauts are female with a breadth of experience among them, with women now representing 26% of NASA's astronaut corps. It's really wonderful to see these women being recently featured in mainstream media, especially Glamour Magazine, a media outlet that's followed by millions of women around the globe (1.17M followers on Twitter!).
Glamour does a fantastic job of interviewing the most recently selected female NASA Astronauts, experts in a variety of scientific fields. Namely, Christina Hammock Koch, former NOAA station chief in American Samoa,  Nicole Aunapu Mann, US Marine and F18 fighter pilot, Dr.Jessica Meir PhD, former Assistant Professor of Anesthesia at Harvard Medical School and Anne C. McClain, US Army and OH-58 Helicopter Pilot.  (Dr.Jessica Meir PhD is also a graduate of my alma mater, International Space University (ISU) (MSS00), making me proud to be an ISU alumna myself!) The article also featured quotes from the inspirational Dr.Dava Newman, Deputy Administrator of NASA.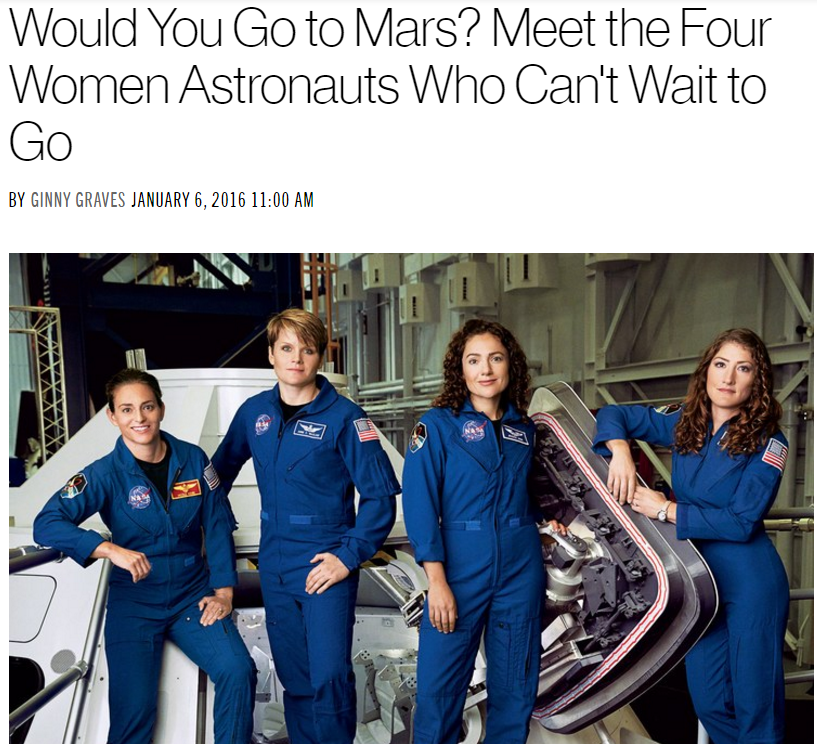 A highlight from Glamour's feature includes:
Governments around the world—in China, Europe, and Russia—have plans in the works to at least land robots on Mars, while in the U.S., private companies like SpaceX are partnering with NASA on a human mission and plotting their own commercial trips. And unlike the 1960s race to the moon, this time women are playing pivotal roles—building rockets, designing space suits, and controlling the remote rovers that are already sending momentous insights back from Mars.
This emphasises an important point, women are contributing to missions on an increasing basis, compared to the days of the Apollo programme.  In fact the New Horizons mission team, which last year provided the world with the closest encounter of Pluto and it's moon Charon, is 25% female, making it the NASA mission with the highest number of female staffers, including engineers and scientists.
The newest four female members of NASA's astronaut corps also describe how they felt the moment they realised they were chosen in 2013 and how they were inspired to apply.
Anne McClain: There were more than 6,100 other applicants for our class of eight, and I'd made my peace with not getting in. I still remember getting the call that I'd been selected. I couldn't breathe, I couldn't talk. I started crying. I grew up in Spokane, Washington, and I can't recall ever not wanting to be an astronaut. I learned a lot [serving 15 months] in Iraq, flying attack helicopters at the front of the front lines. I joined the Army out of a deep sense of duty, but wanting to be an astronaut feels more like my destiny. With so much conflict in the world, space exploration can be a beacon of hope. No one cares about race or religion or nationality in space travel. We're all just part of Team Human.

Jessica Meir, Ph.D.: I had a fantastic view of the stars from the teeny town in Maine where I grew up. Maybe that's why I wanted to be an astronaut from such a young age. I've always been drawn to remote places—and extreme challenges. While doing research on emperor penguins for my Ph.D. in marine biology, I lived and worked in Antarctica, where I also went scuba diving under several feet of ice.

Christina Hammock Koch: My bedroom wall in Jacksonville, North Carolina, was covered in posters of the space shuttle alongside ones of New Kids on the Block. I had always set my sights on working with NASA, but I didn't want to get there by checking the usual boxes, like learning to fly and scuba dive. I wanted to get there because I was passionate about science and the next frontier. When the opportunity to spend a year at the South Pole came up, I took it. There I was in charge of more than 10,000 gallons of liquid helium to keep the telescopes supercool. Our motto was "When the South Pole isn't cold enough, call us."

Nicole Aunapu Mann: I'm probably one of the few astronauts who didn't know that's what I wanted to do as a kid. "Astronaut" seemed like a far-fetched dream. I'm from Penngrove, California, and it wasn't until my first tour in Iraq flying fighter jets with the Marine Corps that I realized one day I might actually be a good candidate. Going into space will be the absolute coolest thing in the world.
Glamour's feature also discusses the logistics of relationships in space whilst on a multi-year interplanetary mission and the intricacies of astronaut training. From the feeling of being weightless in a zero-g plane, practicing a spacewalk underwater and even to learning to be a dentist.
NASA recently opened a call for the next generation of NASA astronauts, closing mid-February. If you're a US citizen and would like your chance to explore the Moon or even Mars, apply now! Women currently represent 26% of NASA's astronaut corps, let's work to bring that up to 50%.
Read the full version of Glamour's feature on female astronauts here