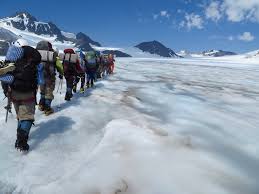 Looking for a STEM adventure? Aged 16-18 and love exploring mountain glaciers and alpine landscapes? Then this programme may be for you!
"Girls on Ice, a free wilderness education program, is accepting applications now through Jan. 29. Each year, two teams of nine teenage girls and three instructors spend 12 days exploring and learning about mountain glaciers and alpine landscapes in Alaska or Washington through scientific field studies with professional glaciologists, artists and mountaineers
The program helps girls learn about the natural processes that create the alpine world, develop critical thinking skills and explore the connection between science and art. Participants learn how to travel on glaciers, design their own experiments and work as part of a team.
Girls are able to participate in this program tuition-free through small grants, gifts from individuals and support from the National Science Foundation, the Alaska Climate Science Center and the University of Alaska Fairbanks."
The University of Alaska Fairbanks website also describes two separate programmes:
Girls on Ice Alaska: 'Designed specifically for girls aged 16 to 18 who are from Alaska, the Pacific Northwest, British Columbia, Yukon or California. The Alaska expedition runs June 17–28, 2016, and girls sleep under the midnight sun while exploring an Alaska glacier.'
Girls on Ice North Cascades expedition: 'Geared toward girls from all countries aged 16 to 18 and explores Mount Baker, an ice-covered volcano in Washington. The North Cascades expedition runs July 10–21, 2016. To be eligible, girls must be at least 16 years old by June 17 and no older than 18 on July 21.'
The application deadline is 29th January. Apply here and good luck!