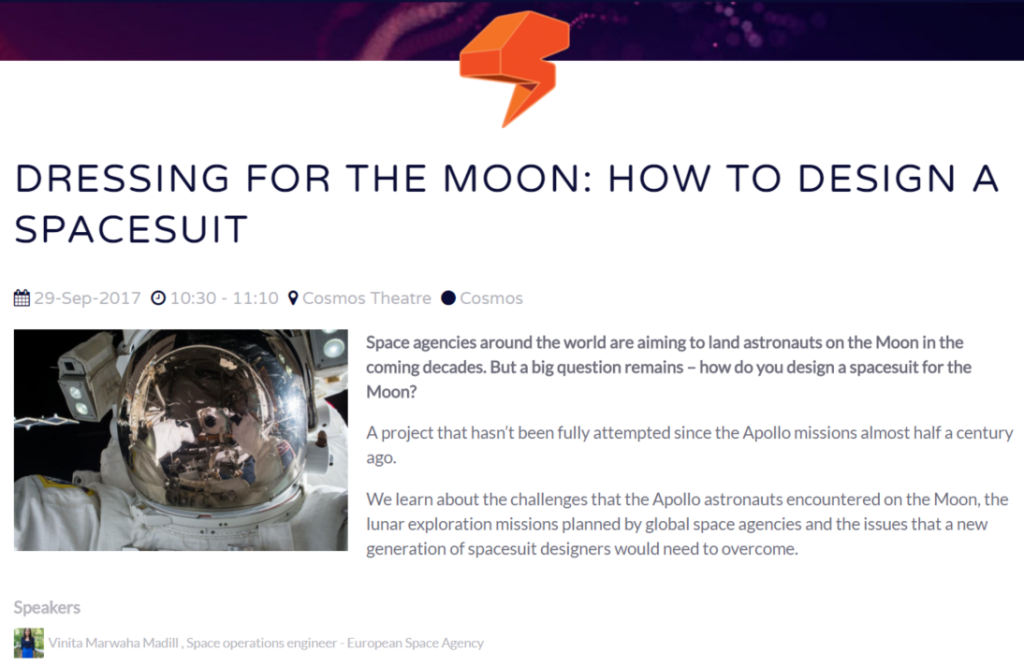 I'm thrilled to announce that I'll be speaking at New Scientist Live 2017 in London on Friday 29th September! During my talk 'Dressing For The Moon: How To Design A Spacesuit' I'll be discussing how to design a spacesuit for the Moon and the exciting projects being planned by space agencies globally to return astronauts to the Moon, including the European Space Agency (ESA). New Scientist Live is 'the world's most exciting festival of ideas and discovery', and will be taking place from 28th September to 1st October 2017. The event is bringing 120+ prominent speakers including British ESA Astronaut Tim Peake, 'The Handmaid's Tale' Author Margaret Atwood, Broadcaster & Author Chris Packham, Chef Heston Blumenthal, Scientist & Broadcaster Prof.Alice Roberts and Physicist & Author Sean Carroll to London.
Tickets are available, with a 10% discount offered to Rocket Women readers to attend this exciting event, using the code 'SPEAKER10'!
To book tickets for Dressing For The Moon: How To Design A Spacesuit and and for further information about this fantastic event visit: https://live.newscientist.com/talks/dressing-for-the-moon
Learn about New Scientist Live on Twitter @newscilive & Instagram @NewScientistOfficial. I look forward to meeting you at the event!