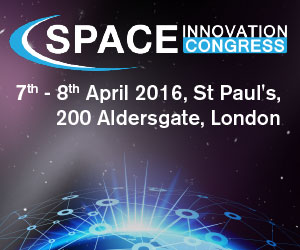 Rocket Women is excited to announce our partnership with the Space Innovation Congress, taking place on 7-8th April 2016 in London, UK. The congress will bring together the brightest international minds in space to discuss innovative advancements in space technology and how these are being applied to many industry verticals. With over 80 confirmed speakers including international astronauts, commercial space industry executives, respected academia, governmental organisations and space agency representatives, including ESA, NASA and the UK Space Agency, the 2-day conference is prime for high-level networking and discussions.
Entry to the Women In Aerospace (WIA) Breakfast on 8th April is included in the conference pass. Speakers at the WIA Breakfast include Dr.David Kendall (Chair UN COPUOS 2016-17), Simonetta Di Pippo (President, WIA-Europe, & Director, United Nation's Office for Outer Space Affairs, former ESA Director of Human Spaceflight) and Prof.Chris Welch (Professor of Spacecraft Engineering – International Space University, VP – International Astronautical Federation).
An exclusive 20% discount is available for Rocket Women readers to attend this exciting event! Simply input the code 'space16rocket' to your basket when purchasing tickets here. We look forward to meeting you at the Space Innovation Congress 2016!
For further information on the Space Innovation Congress visit: http://www.spaceinnovationcongress.com