"I just think that inventing is for boys because they have Albert Einstein — he invented, he was a guy — and Benjamin Franklin also."
A powerful new video "Girls Do Science" by Microsoft's DigiGirlz campaign aspires to show why girls are lacking in STEM fields.
DigiGirlz gives high school girls the opportunity to learn about careers in technology, connect with Microsoft employees, and participate in hands-on computer and technology workshops. The video highlights that 7 out of 10 girls are interested at science when young, however only 2 out of 10 go on to work in STEM fields. The video shows the girls' initial interest in science, with them excitedly describing the projects they've completed including designing a website and building a computer. However this initial excitement turns to doubt with the girls describing their reasons for shying away from science.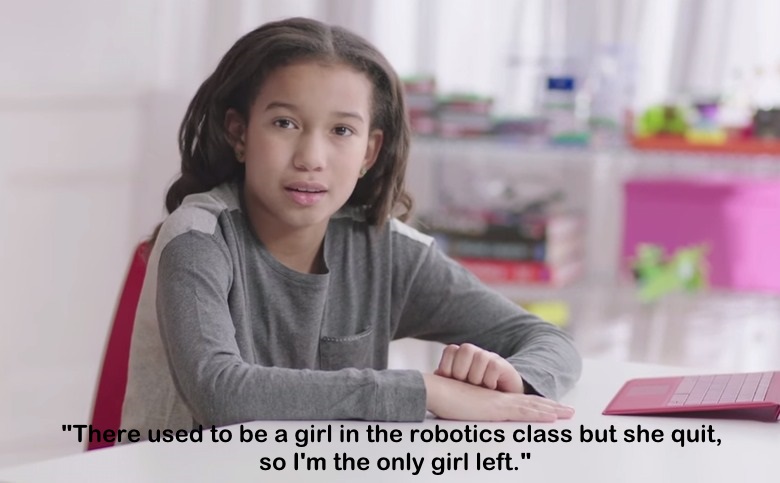 "When I was littler I used to think technology was great, and then I started thinking it was more of a boys thing." Without role models and peer support showing girls that they can study STEM and be great at science, girls hesitate to study subjects that have traditionally been described as "hard". "In commercials I saw a lot more men doing it – they [girls] might like science but be afraid – thinking don't girls do that, that's a boy thing," says one girl in the video, the result of a lack of prominent female STEM characters in media.
Women earn just 18 percent of computer science degrees in the U.S., a sector that has one of the highest average salaries of US $90,000, along with the smallest gender related pay gap (6.6%). This emphasises the need to inspire girls to continue their interest in STEM through to further education and a career.  The DigiGirlz video ends on a positive note with the girls receiving letters from Microsoft encouraging them to continue their science projects and to think about what they could achieve one day in the future. It's certainly a step in the right direction, highlighting the issues preventing girls from entering STEM fields and providing support to allow them to build upon their passions and consider a gratifying career in science.