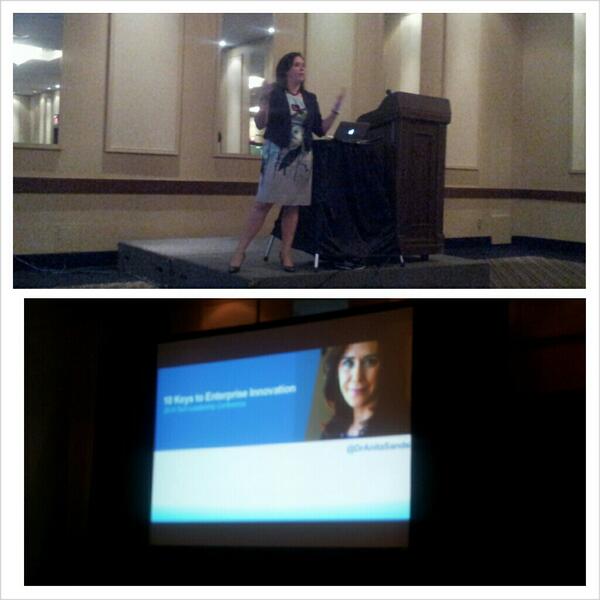 During the Tech Leadership Conference I had the pleasure of meeting Dr.Anita Sands, a visionary female leader in tech and business. Dr.Anita Sands is not only an atomic & molecular physicist (PhD), she was also the youngest ever Senior Vice President at the Royal Bank of Canada, where she served as the Head of Innovation and Process Design. In addition to helping transform Citigroup's $20B global operations and technology organization, as Managing Director and Head of Transformational Management previously in her career. She is a remarkable women with a equally outstanding background.
During her session Anita explained the presence of a "massive skill gap" in the current workforce and a lack of age diversity in the boardroom. With the average age of directors at 58, Anita discussed the need to to bring a mindset of how social and disruption will affect a company and its industry. Without diversity on boards its possible for company's to miss the fact that their "competitors are not who they think they are" and ensure that they "create a capacity for change".
In 2012 Concern Worldwide, the international humanitarian organization, honoured Anita with their Women of Concern award, for her leadership, contribution to public service, and empowering women throughout the world. During her session Anita described her seven "M"'s for leadership and successful enterprise innovation:
1) Mindset: The need to have a Global Mindset from the get-go. "Innovation is a mindset"
2) Market Validation: Company's CID/CTO should tell you whether tech works well as part of production development.
3) Market Analysis
4) Make a A Client: First client
5) Mentoring – Sales Capability and Sales client: Learn to scale
6) Management: Founder is usually an engineer and great product focus- good for first step. Need a new management team and CEO to scale. Need a board that can take you to the next level- surround yourself with that team.
7) Money: Lastly and importantly
In summary, essential traits for a successful company were to focus on your customers, disrupt yourself and build out process innovation.
The Tech Leadership Conference also featured other excellent speakers including Geoffrey Moore, author of Crossing The Chasm, Dave Caputo, CEO Sandvine and Scott Bedbury, Global Brand Builder for clients including Nike, NASA and Starbucks.