We're happy to announce that Rocket Women has recently been featured by the fantastic Ladies Learning Code, discussing The Power of Confidence!
"At Ladies Learning Code, we're committed to closing the gender gap in technology by teaching women through beginner friendly programs that provide practical tech skills and arguably something even more important — confidence.
Whether it's building something you wish existed, tackling a big project successfully, overcoming a personal obstacle or learning a new skill you never thought you could (like coding) –  we believe the confidence you gain from trying new things and problem solving is a critical component of ensuring women thrive."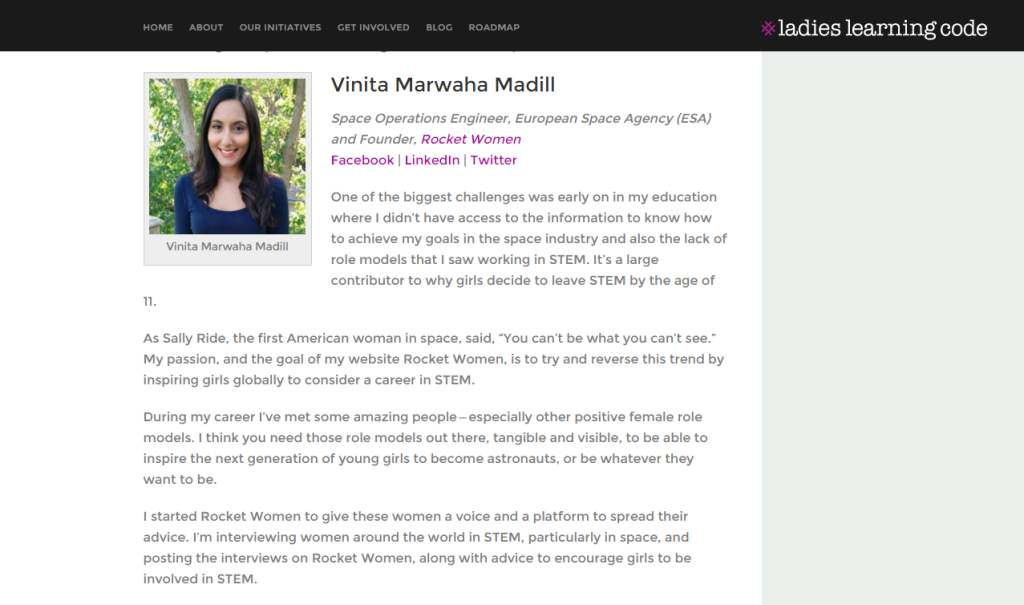 "One of the biggest challenges was early on in my education where I didn't have access to the information to know how to achieve my goals in the space industry and also the lack of role models that I saw working in STEM. It's a large contributor to why girls decide to leave STEM by the age of 11.
As Sally Ride, the first American woman in space, said, "You can't be what you can't see." My passion, and the goal of my website Rocket Women, is to try and reverse this trend by inspiring girls globally to consider a career in STEM.
During my career I've met some amazing people — especially other positive female role models. I think you need those role models out there, tangible and visible, to be able to inspire the next generation of young girls to become astronauts, or be whatever they want to be.
I started Rocket Women to give these women a voice and a platform to spread their advice. I'm interviewing women around the world in STEM, particularly in space, and posting the interviews on Rocket Women, along with advice to encourage girls to be involved in STEM." – Vinita Marwaha Madill, Rocket Women
Read the original post here which also features advice from trailblazing women in STEM globally.