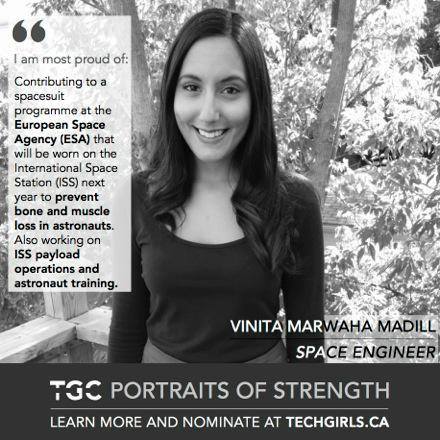 I'm honoured to be featured in TechGirls Canada's Portraits of Strength, stories of role models across Canada to inspire young women.
"I am proud of contributing to a spacesuit programme at the European Space Agency (ESA) that will be worn on the International Space Station (ISS) next year to prevent bone and muscle loss in astronauts, with the potential to be used for long-duration exploration."
"The biggest obstacle I have faced was overcoming preconceived ideals. I've always known that I wanted to work in the space industry, however it wasn't a career path that was expected. I had to prove to others and myself that it was possible."
I hope that the work I do inspires girls globally to follow their dreams to study and consider a career in STEM.
TechGirls Canada is a fantastic organisation that provides national leadership and community to the hundreds of non-profit and industry groups working to encourage more girls to consider tech as a career.
Read more of the feature on the TechGirls Canada website: http://bit.ly/1Cb9AUu