A very Happy Birthday to NASA Astronaut Sunita Williams! Sunita's celebrating her birthday onboard the International Space Station (ISS), which she became Commander of last week, becoming only the second female commander in ISS history. During an EVA (spacewalk) last week, Sunita also gained the world record for the longest time spent spacewalking by a female (cumulative). Overtaking 39 hours and 46 minutes. When told of her achievement by Mission Control (MCC Houston) during the spacewalk, Suni said that it was a "matter of circumstance, time and place" and that "anybody could be in these boots". Suni took over the record from Peggy Whitson, who sent her a message during the EVA congratulating her on this accomplishment. Peggy stated that it was an honour to handover  – ending the message with You Go Girl!
Sunita also holds the world record for the most hours spent in orbit by a female. Well Done Suni!! She also completed a triathlon in space last weekend! The activity was timed to coincide with the Nautica Malibu Triathlon held in Southern California. Sunita "swam" half a mile using the strength resistance training machine onboard the ISS, cycled for 18 miles and ran for 4 miles! Creating an offworld record of 1 hour, 48 minutes and 33 seconds! Amazing! Astronauts onboard exercise for 2 hours a day using equipment including a stationary bike and treadmill. They are tethered to the machines using harnesses and straps to keep them in position. Exercise is essential for the astronauts to prevent physical deconditioning. Bone and muscle loss otherwise can occur increasingly due to the weightless environment.
Sunita is truly an inspiration to me and also to women around the world!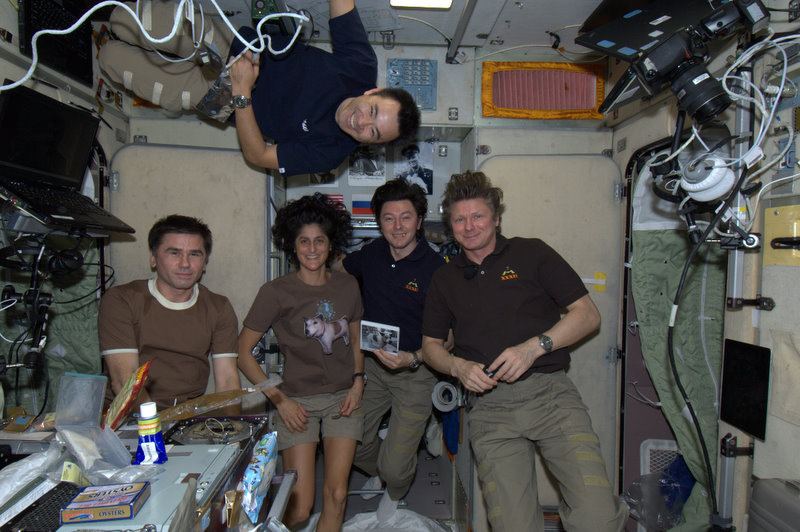 P.S. Photos below are of the tool that Sunita Williams and Akihido Hoshide used to install a new electrical Main Bus Switching Unit (MBSU) to relay power on the station. A second unscheduled spacewalk was needed last week for the activity, during which the astronauts used the tools they made on the ISS themselves to fix the station.
Complete ingenuity!!
Sunita also recently took viewers on a tour of the ISS!